Essential Hospitality Machinery for your Business: The Role of Professional Skimmers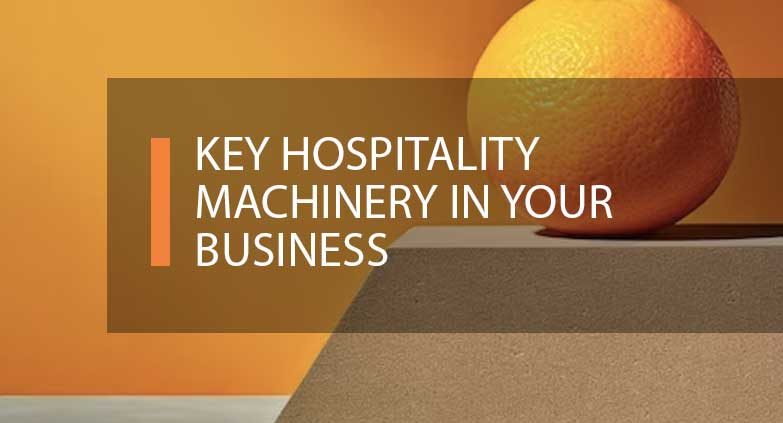 In the dynamic world of hospitality, hospitality machinery plays an essential role. Every day, thousands of diners visit restaurants, cafés and bars in search of a unique dining experience. Among the key pieces of equipment that make this experience possible are professional juicers.
These machines not only speed up the preparation of fresh juices, but also guarantee unrivalled quality. These advanced technologies transform the hospitality industry and raise the standards of customer satisfaction. Let's discover how hospitality machinery, with a focus on professional juicers, is driving excellence in the industry.
The Importance of Hospitality Machinery
In the competitive world of hospitality, hospitality machinery plays a key role. Efficiency and quality are key elements in maintaining excellence in food and beverage preparation, and this is where this specialised machinery comes into play. Whether in a fine dining restaurant, a cosy café or a lively bar, catering equipment makes the difference.
Professional juicers have become a key pillar in this industry. These machines, designed to extract maximum flavour and nutrition from citrus fruits such as oranges, represent the essence of freshness and quality in the on-trade. With an orange juice machine or orange juice machine, businesses can offer their customers freshly squeezed drinks quickly and without compromising on quality.
In this era of rising consumer expectations, hospitality equipment, and in particular professional juicers, are becoming indispensable. From preparing morning juices in a coffee shop to creating refreshing cocktails in a bar, these machines ensure that flavours are unforgettable and customer satisfaction is second to none. Thus, hospitality machinery, with its focus on professional juicers, establishes itself as the driving force behind excellence in the sector.
Beyond Skimmers: Other Essential Hospitality Machinery
While professional juicers are essential for providing delicious fresh juices, there are other equally crucial catering machines that should not be overlooked. These machines complement juicers perfectly and, together, they form an unbeatable team in the hospitality industry. Here, we explore some of these key machines:
Coffee machines: For many, coffee is as essential as orange juice. Professional coffee machines allow you to prepare a wide variety of coffee drinks, from espresso to cappuccino. In combination with juicers, they ensure that customers have a complete fresh beverage experience in your establishment.
Fryers: If you offer fried food options, a professional fryer is essential. Whether for Chips, onion rings or churros, these machines ensure that food is cooked evenly and crisp, satisfying your customers' cravings.
Refrigerators: Proper storage of ingredients and finished products is essential. Commercial refrigerators keep food fresh and safe, which is fundamental to the quality and safety of food in your business.
Industrial dishwashers: Keeping crockery and utensils clean and ready to use is a vital part of any catering business. Industrial dishwashers ensure fast and efficient cleaning, saving time and labour.
These machines, together with the professional skimmers, form a complete team to meet the needs of your hospitality establishment. They will work in harmony to offer your customers an exceptional experience and ensure that your business runs smoothly. Choosing the right hospitality machinery is critical to maintaining quality, efficiency and customer satisfaction in your business.
The Technology Behind Professional Foamers
Professional juice extractors are the result of the perfect marriage of tradition and technology. At the heart of these machines is innovative engineering that drives their high-performance operation.
Automation is a key feature that has transformed the way fresh juices are prepared in the on-trade. These machines are designed to squeeze oranges and other citrus fruits with impressive efficiency, reducing human effort and improving production speed. This allows establishments to serve more customers in less time, resulting in increased profitability.
Another advanced feature that does not go unnoticed is energy efficiency. Professional skimmers are designed to be environmentally friendly and economical in terms of energy consumption. These machines are often equipped with high-powered motors that operate optimally, minimising energy waste.
The technology behind these skimmers also focuses on ease of use and cleaning. Modern models are often intuitive and easy to maintain, saving time and effort for catering staff.
In short, the technology that powers professional juicers is designed to deliver an exceptional fresh juice experience, combining speed, efficiency and flavour in every glass.
Customised Professional Zumeras
Selecting the right orange juice machine for your hospitality business is essential to ensure optimal performance and meet the demands of your customers. Here are some key tips for making the right choice:
Production Volume: Assess how much fresh orange juice you expect to serve daily. Choose a juicer that can handle your production volume without any problems.
Energy Efficiency: Consider models that are energy efficient. This not only benefits the environment, but also reduces your operating costs.
Ease of Use: Opt for a machine that is easy to operate and does not require highly specialised personnel.
Maintenance: Make sure maintenance and cleaning is simple and quick. This minimises downtime and ensures hygiene.
Size and Design: Consider the space available in your establishment and the design of the machine so that it blends in harmoniously with its surroundings.
Manufacturer Reputation: Researches and selects foamer manufacturers with a solid reputation in the hospitality equipment industry.
With these tips and your specific needs in mind, you can find the perfect professional juicer to help you deliver delicious fresh orange juice to your customers efficiently and cost-effectively.
MIZUMO Orange Squeezers
Mizumo orange juicers are the preferred choice of many catering establishments looking for the perfect combination of elegance and efficiency in their hospitality machinery. This line of juicers, which includes the Mizumo Next Gen, the Self Service Pro Z, and the Easy Pro Z Black, offers smart solutions for squeezing oranges quickly and easily, giving businesses the ability to offer quality fresh juice to their customers.
Mizumo Next Gen: This professional orange juicer stands out for its contemporary and aesthetic design, available in black and white, which blends perfectly into any catering environment. Its production capacity, safety system and ease of cleaning make it an attractive option for establishments where design is a priority.
Self Service Pro Z: Designed specifically for self-service in restaurants, cafes, hotels and supermarkets, this automated orange juicer can handle large quantities of oranges with its automatic feeding system. It offers an impressive output of 40 oranges per minute, reducing queues and improving the customer experience.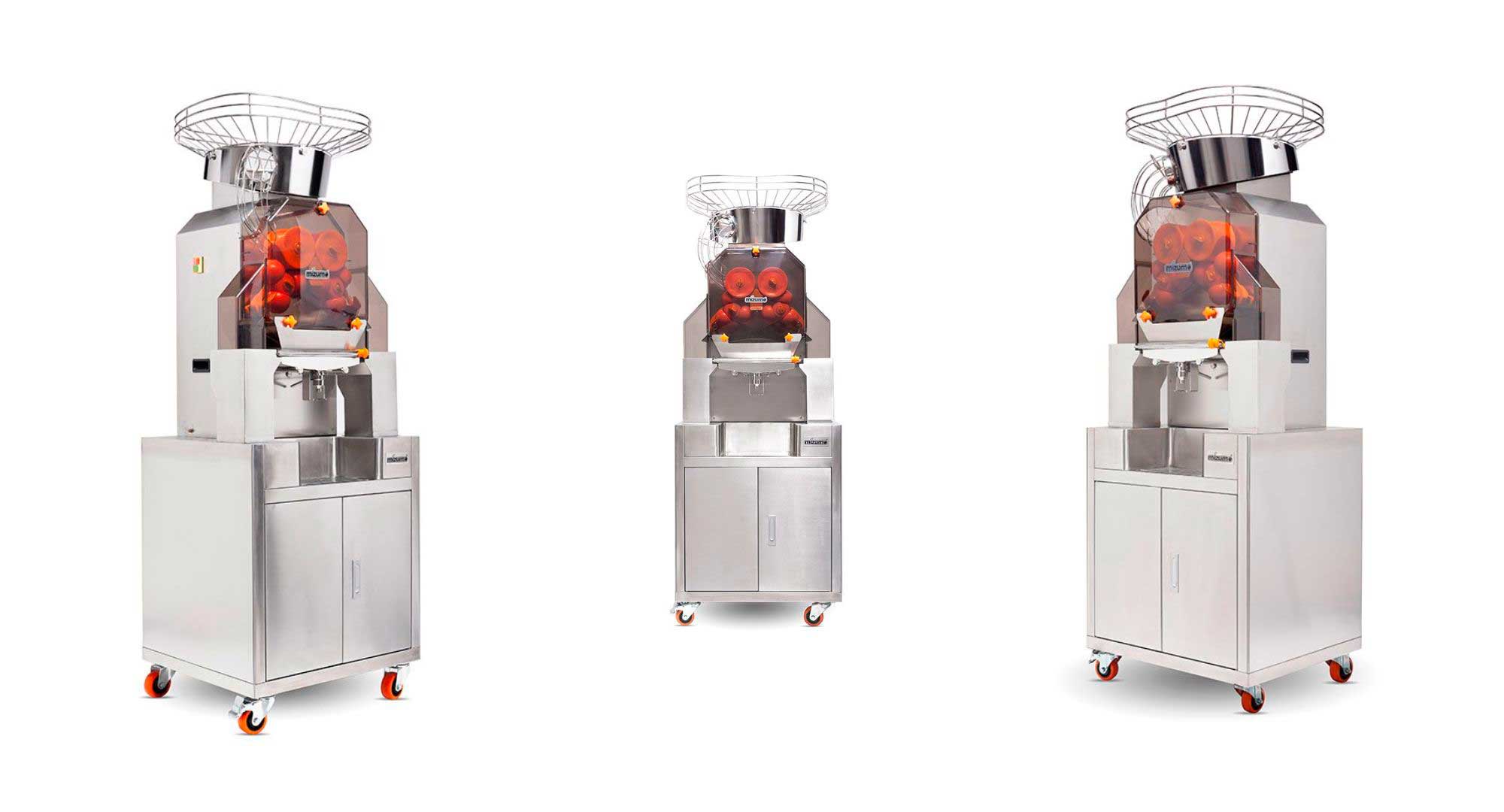 Easy Pro Z Black: This manual juicer stands out with its stylish black colour, which is not only attractive but also practical for keeping it clean in a catering environment. With its powerful motor and intuitive design, it is an essential tool for delivering fresh and healthy juices quickly and efficiently.
In short, professional buzzers are fundamental pieces of modern hospitality machinery. If you want to raise the quality of your services and offer your customers the freshness and unique flavor of freshly squeezed juices, Mizumo is here to accompany you on this journey. Our range of state-of-the-art buzzers, such as the stylish Mizumo Next Gen, the versatile Self Service Pro Z and the efficient EASY PRO Z BLACK, is designed to exceed your expectations.
With Mizumo, you not only acquire a machine, but an ally in hospitality excellence. ¡ Discover today how our professional buzzers can transform your business!
https://exprimidormizumo.com/wp-content/uploads/hospitality-machinery.jpg
519
783
Exprimidor_23
https://exprimidormizumo.com/wp-content/uploads/Logo-Mizumo-340x155px-ENG.png
Exprimidor_23
2023-09-20 08:44:59
2023-09-20 08:45:04
Essential Hospitality Machinery for your Business: The Role of Professional Skimmers