Automatic orange juicer, 3 advantages to take into account
One of the tools that can not miss in our catering business is a good automatic orange juicer. These will help us to obtain a concentrated, natural and delicious juice in a short time, optimizing the time of attention to our customers or facilitating the work at home.
In Mizumo we have a wide range of professional orange juicers that generate orange juice in record time while maintaining its quality and taking advantage of everything the fruit has to offer.
What are the advantages of an automatic orange juicer?
Juicers are manual or electric, the latter being the most used nowadays due to their simplicity and speed to obtain the juice we want.
The great need to acquire juice in record time to efficiently serve consumers within a hospitality industry has caused the industry to apply technological advances to bring automatic juicers to life.
While juice is required in a short time, the quality of the juice cannot be compromised. For this, the best option is a Mizumo automatic orange juicer.
In the following section we will mention the main advantages of having an automatic juicer at your disposal:
The quality of the orange juice is maintained; more flavor and freshness.
It is no secret to anyone that the most important thing is the taste, besides the sight when we talk about a juice, that is, it has to look good, smell and taste excellent to be to the taste of customers.
With the help of an automatic juicer we will be promising a good flavor, as long as the ideal materials are used with the indicated freshness. The juicer will make the most of all the pulp to generate a unique orange juice without losing the important nutrients that this fruit offers us.
Speed and increased efficiency
As it is an automatic device, we will be obtaining greater efficiency in terms of the amount of juice we generate, since not a single drop will be lost in each service, in addition to getting the most out of all the orange pulp.
You will also be saving time by not having to apply any manual process, letting the juicer do its job while you perform another activity. In conclusion, it will optimize the activity in your business or home.
Easy to use
An automatic orange juicer is used in just a few steps because you just insert the fruit and turn it on, so no other maneuvering is required to get the juice.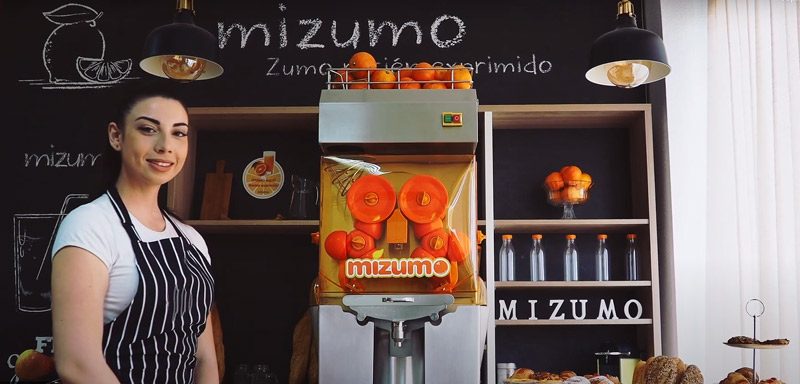 Mizumo, the best automatic orange juicers
Mizumo is a company that has become popular nationally and internationally for our high quality products that seek to satisfy your needs in an efficient way to offer you the best juice you have ever tasted.
The models of automatic orange juicer that we have in our company are within the Horeca line, which has medium-sized products that adapt perfectly to different places.
Our line stands out for having juicers ideal for restaurants, cafeterias or any hospitality facility, however, you can get any of these copies for your home at a very affordable price.
Each of them are used for medium to high consumption, depending on your requirements.
Below, we will tell you which are our automatic juicers to choose the one that best suits your needs in order to benefit from all its unique features:
Professional Automatic Orange Juicer
This juicer model stands out for having an intelligent automation that will benefit you at the moment of its use, since you will not have to make any effort at all and you will obtain an orange juice in a short time and, at the same time, delicious.
It also has a self-service faucet that is ideal for the hospitality industry, as well as being easy to use and has a robust design that provides quality and resistance to be useful for a long time.
Its consumption rate is high making it perfect for food services. It has a capacity for 10 kg of weight in its basket, squeezes 22 oranges per minute with an automatic orange feeding, adding of having a programmer and optional controller.
It weighs 58 kg, its power is 200 W with voltage 230 V / 50 Hz. If you want to know more about this impressive juicer you can do it in the following link that we will leave you.
Professional orange juicer
As in the previous case, its programming is intelligent, as is the case with all our automatic orange juicer models.
Therefore, it has in its design an orange programmer/counter that serves to control and count the amount of oranges that are squeezed per minute to know exactly how much juice we are getting for the number of oranges used.
Another of the great advantages that we can obtain with the Auto-Pro Counter orange juicer is to program the number of oranges we want to use per service, that is, we program the juicer to use the amount of fruit we want.
Due to these aspects, the type of consumption offered by this model is high generating that the juice production is fast and automated being an indispensable element when it comes to a hospitality business, although you can use it without any problem at home.
The difference between this model and the previous one is that it is more advanced in terms of programming, however, it has the same features such as; capacity for 10 kg of weight in its basket, squeezing 22 oranges per minute having an automatic feeding of oranges.
It is important to know that its weight is 58 kg, power 200 W with voltage 230 V / 50 Hz. Discover all the features of our automatic orange juicer.
Are you looking for a high quality automatic orange juicer to have the best orange juice of all? Then contact us through our contact form or on our customer service phone number.
You can also search for your nearest distributor directly through our website.
https://exprimidormizumo.com/wp-content/uploads/Automatic-orange-juicer.jpg
519
783
Projectteammizumo
https://exprimidormizumo.com/wp-content/uploads/Logo-Mizumo-340x155px-ENG.png
Projectteammizumo
2023-01-26 10:20:24
2023-08-10 09:27:56
Automatic orange juicer, 3 advantages to take into account