Disassembly and cleaning of Mizumo Easy-Pro Professional Juicer
Mizumo products are characterized by easy cleaning, which is one of the main reasons why more and more people trust our orange juicers. One of the public's favorite models is the Mizumo Easy-Pro professional juicer, which belongs to the Horeca line of professional juicers. It has several advantages for the user that will be mentioned in the following information. Below we detail how to assemble and clean the Mizumo professional juicer.
Mizumo Easy-Pro
The Mizumo Easy-Pro professional orange juicer is our Best Seller, as it has a robust, efficient and easy to use design that helps to adapt to different needs, so it can be used for catering businesses, restaurants and even at home.
We will be able to obtain a totally natural juice in a fast and easy way. Another of the main characteristics of the Easy-Pro model is its economical price, being within the monetary reach of any person.
If you are looking for a product that provides an easy process to squeeze the best oranges, then this is the best alternative for you. It is made of a stainless steel body making it easy to clean, maintaining proper hygiene and extending its durability.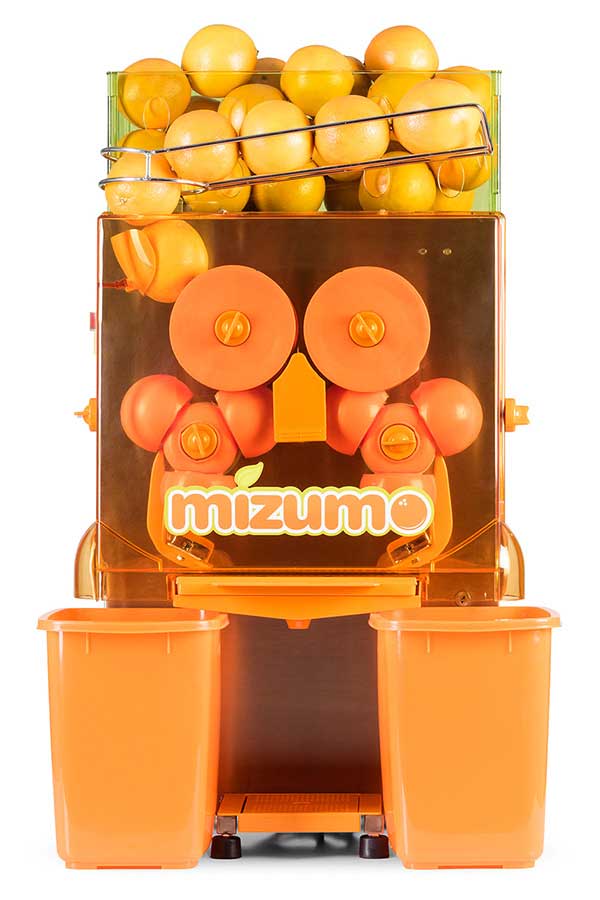 Features of Mizumo Easy-Pro
Your oranges are fed manually
Output of 22 oranges per minute
Its basket supports a weight of 6 kg of oranges.
The power of the product is 200 W
Voltage 230 V / 50 Hz
Contains an automatic safety sensor to offer you a fully protected experience
It is used for an average type of consumption
Disassembling the Easy-Pro Professional Juicer
As we have already mentioned above, the procedure for disassembling and cleaning this professional juicer is quite simple, so pay attention to the following section to find out what you should do to generate an effective cleaning of your star product.
Surely many users think that the disassembly process of this type of product is complex, but Mizumo models stand out for having easy to disassemble and safe parts to generate an effective cleaning in record time.
Steps for disassembling and cleaning the Easy-Pro Professional Juicer
Unplug the device to avoid accidents.
Remove the two (2) waste trays and, if there is a juice jug or glass, also remove them from the juicer.
Remove the tray where the orange juice container is located.
Loosen the orange screws on each side of the cover.
Remove the filter and the juice collector.
Subsequently, the plastic cover must be removed.
Unscrew the four (4) grub screws that are attached to the rollers of the Easy-Pro professional juicer.
Remove the blade located in the center with both hands and extreme care.
Remove the two (2) peelers
Simultaneous disassembly of the squeezing rolls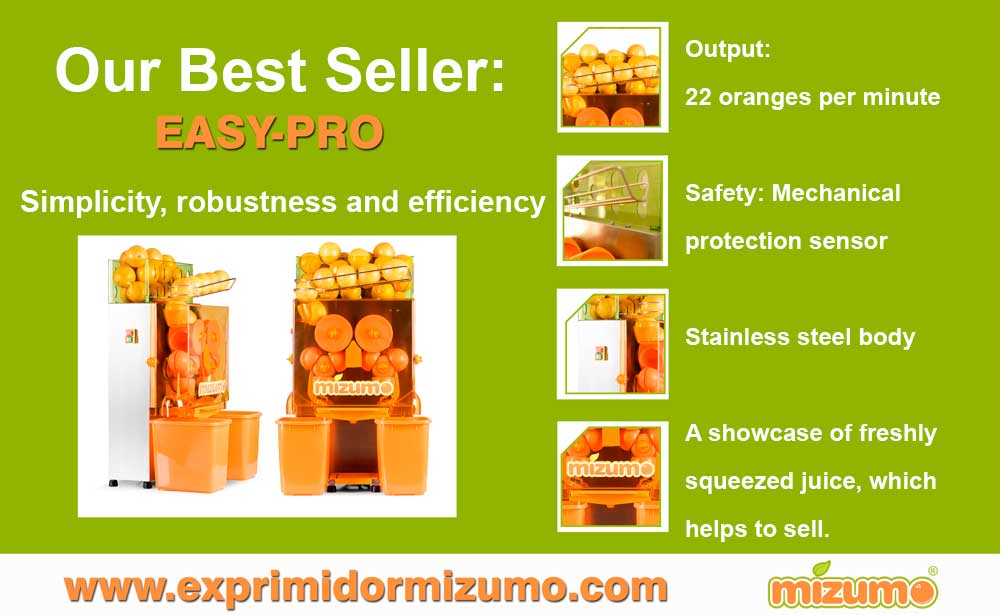 Cleaning the Easy-Pro professional juicer
Once the parts that make up the Easy-Pro professional juicer have been disassembled, it is time to clean it to ensure proper hygiene in each squeeze in order to have a tasty and healthy orange juice that is not a risk to the consumer's life.
If you do not carry out an adequate cleaning, you will be generating the proliferation of microorganisms that are harmful for human consumption, so this step is essential.
Proceed to apply antibacterial liquid on the entire food of the juicer with the help of a cloth reaching all the corners until there is a clearance.
The disassembled parts can be safely washed in a dishwasher, as they are made of resistant materials adapted for this type of tool.
If you do not have a dishwasher, you can clean them manually without any problem.
And that's it!
As is evident, the steps to follow for the disassembly and cleaning of our Best Seller Easy-Pro is quite easy to perform, as well as its assembly. Below, we will tell you how to reassemble its parts safely and efficiently.
Assembly of the Easy-Pro professional juicer
Now it is time to assemble the Easy-Pro professional juicer, which is as easy as disassembling it. Follow these steps and you will have your juicer back in operation:
Place the rollers in pairs, i.e. the concave and convex roller together as removed, from left to right or vice versa.
Replace the four (4) pressure screws of the rollers and tighten them to fix them correctly.
Fixing the cover
Place the orange juice collector under the cover until both fit together.
Tighten the two (2) screws on each side of the unit to secure the previously placed part.
Place the filter on top of the juice collector.
Place the tray where the juice container is placed.
Finally, place the two (2) waste collection buckets on each side of the Easy-Pro professional juicer.
Those would be all the steps to follow to generate a proper disassembly, cleaning and assembly of this professional orange juicer. Keep in mind that all our products are designed to establish an easy to perform hygienic process helping you save time in terms of maintenance.
Many models of other brands are complex to clean, however, Mizumo's products will make your job much easier.
¿Qué estás esperando? Conoce nuestro increíble catálogo para descubrir cuáles son las opciones que tenemos para tu hogar o negocio. Estamos seguros que no te arrepentirás de esta impresionante inversión que te ayudará a tener jugo de naranja en poco tiempo, con un sabor totalmente natural y en simples pasos.
Contáctanos a través de nuestro formulario de contacto, al número telefónico (+34) 965 035 784 o envíanos un correo electrónico a la siguiente dirección email: info@exprimidormizumo.com.
We will be happy to assist you whenever you need it, so don't hesitate to contact us right now and buy the best professional juicer Mizumo Easy-Pro.
Get your Easy-Pro model and get the best orange juice ever!
https://exprimidormizumo.com/wp-content/uploads/limpieza-Exprimidor-Profesional-Mizumo-Easy-Pro.jpg
512
1200
admin
https://exprimidormizumo.com/wp-content/uploads/Logo-Mizumo-340x155px-ENG.png
admin
2023-01-10 16:46:18
2023-08-10 10:01:12
Disassembly and cleaning of Mizumo Easy-Pro Professional Juicer