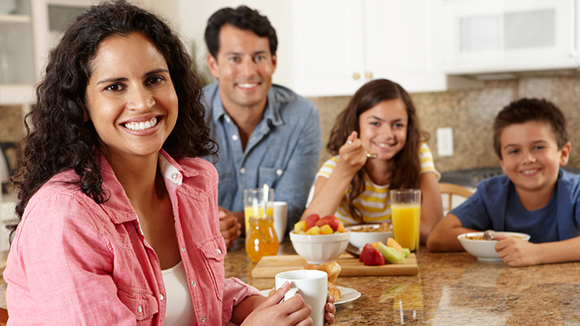 That´s why you should take a breakfast every day…
Breakfast is the most important meal of the day
Numerous studies confirm the importance of breakfast in a healthy lifestyle.  There is a big difference between taking a breakfast or skipping one. If you don´t take breakfast, then pay attention to the following arguments:
Our body is a perfect machine, so keep it in top condition:
People who usually not eat breakfast have less energy and lack of concentration and mood. The explanation is that, despite being asleep, our body is still working and performing many metabolic functions, an energy that must be recharged every morning for our body to keep it running in top shape, like a machine that works 100%.
Set aside the laziness, another way to start the day:
Yes, we know: Some say they don´t have time to prepare breakfast.  This is not an excuse, because there is a great variety of simple, cheap and healthy breakfast you can prepare fast in the mornings. If you just need a little effort to make your day that much better, so what are you waiting to for?
Eating healthy is also possible outside:
One of the habits of the Spanish culture is that we like to breakfast outside, in a bar or cafe. More professionals of the hospitality and catering, share our vision, making his small contribution, serving daily orange juice freshly squeezed or recipes made with it.
An example:
 Imagine yourself in the morning …. The beginning of your day you want to breakfast in a bar or cafe. You enter in the bar and    search for a place to sit. During this time you look at a poster holder at the bar/ table where all the good properties are detailed and  why you should take freshly squeezed orange juice, you probably think … Well, why not? It´s not bad to order an orange juice.
 Well, we think that as well! Mizumo has designed special posters to raise awareness to consume a simple and healthy beverage like  orange juices. In addition, the restaurants and hotels businesses increase their sales, that means killing two birds with one stone!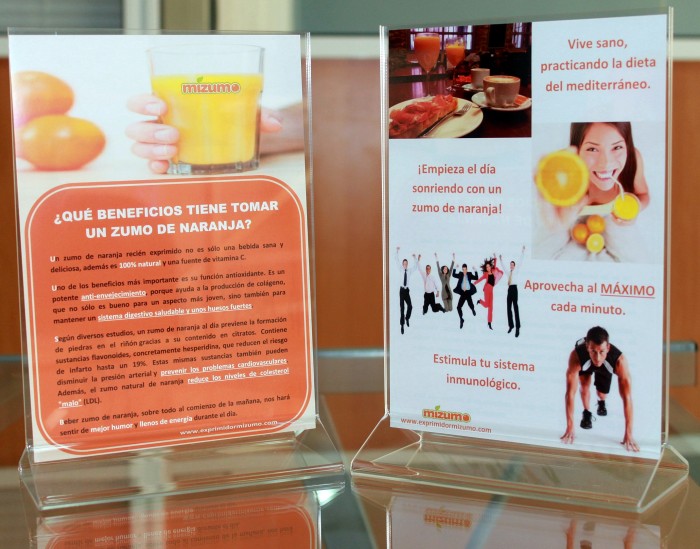 If you are a professional in the hospitality sector and interested in decorating your business with our poster holders, contact us for more information:
info@exprimidormizumo.com
Phone: +34 965 035 784
And for those ones, who find one of our poster holders in a bar, cafe or any business, take a picture and sharte it on our Facebook or Twitter and give us your opinion!!!
https://exprimidormizumo.com/wp-content/uploads/2015/07/familia-desayundando.jpg
326
580
admin
https://exprimidormizumo.com/wp-content/uploads/Logo-Mizumo-340x155px-ENG.png
admin
2015-07-31 11:42:26
2019-07-17 16:24:30
That´s why you should take a breakfast every day…