Professional Juicers at the HostMilano 2019 Fair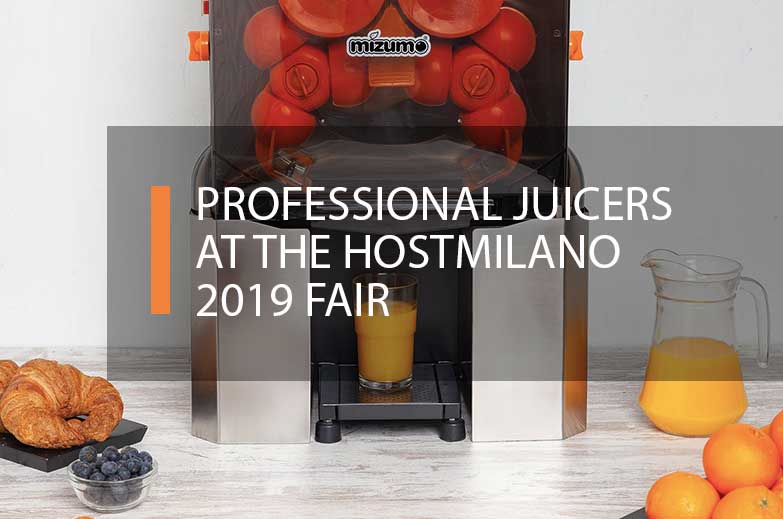 At Mizumo, we are excited to introduce you to our range of professional juicers extractors. Our dedication to quality and innovation has culminated in equipment that not only extracts juice, but transforms the way you create and enjoy fresh, authentic fruit flavour.
We invite you to immerse yourself in the experience through our video presentation. In this video, we show you how our professional juicers are redefining the way hospitality professionals prepare and serve fresh juices.
Efficiency and Quality in Every Drop
The video captures the essence of our range of professional orange juicers, highlighting their exceptional ability to extract juice from oranges efficiently and effortlessly. Each of our professional juicers becomes an essential tool to give your customers an authentic, fresh taste in every glass of juice.
Innovation in Action: Our Professional Juicers Models
Our professional juicers have been carefully designed to meet the needs of your business. Their robust and durable construction ensures that they perform flawlessly even in high-demand environments. In addition, their intuitive and user-friendly design saves time and effort in preparation.
A Range of Options
We understand that every establishment is unique, which is why we offer a range of professional juicer models to suit your specific needs. From compact models to high capacity options, our equipment is designed to optimise your workflow and deliver the freshness your customers deserve.
Freshness and Excellence in Every Glass
Our professional juicers not only deliver efficiency, but also preserve the freshness and quality of the juice in every glass. Every drop captures the authentic taste of freshly squeezed oranges, giving your customers an exceptional experience they will remember.
In short, our professional juicers represent innovation in fresh juice preparation in the on-trade. If you're looking for equipment that offers efficiency, quality and versatility in every drop, our range is the perfect choice to take your business to the next level.
At Mizumo, we are committed to providing you with solutions that transform your establishment. We invite you to watch the video and explore our range of professional orange juicers. If you want to deliver freshness and excellence in every glass, our juicers are the answer!
https://exprimidormizumo.com/wp-content/uploads/exprimidores-de-zumos-profesional.jpg
519
783
admin
https://exprimidormizumo.com/wp-content/uploads/Logo-Mizumo-340x155px-ENG.png
admin
2019-10-25 10:37:51
2023-08-22 10:02:14
Professional Juicers at the HostMilano 2019 Fair