El desayuno es la comida más importante del día
Numerosos estudios confirman la importancia del desayuno dentro de un estilo de vida saludable. Y es que hay una gran diferencia entre tomar, o saltarnos esta primera comida del día. Si todavía estás pensando que no es tan importante, presta atención a los siguientes argumentos:
Nuestro cuerpo es una máquina perfecta, mantenla en óptimas condiciones:
Las personas que normalmente no toman desayuno tienen menos energía, están más decaídas, con falta de concentración y de mal humor. Influyendo en el estado físico general y como no, en todas las personas con las que se relacionan a diario. La explicación a todo esto se debe a que, a pesar de estar durmiendo, nuestro cuerpo sigue trabajando y realizando muchas funciones metabólicas que también suponen un consumo energético que hay que reponer cada mañana para que nuestro organismo siga funcionando en estado óptimo, como una máquina que funciona al 100%
Si quieres leer más acerca de por qué debes alimentarte por la mañana, puedes leer en este blog acerca de los beneficios de un desayuno saludable para ti: http://www.naturopatamasdeu.com/la-importancia-de-desayunar-bien/
Dejar de lado la pereza, otra forma de comenzar bien el día:
Sí, ya lo sabemos: algunas personas dicen que no tienen tiempo para prepararse un desayuno. Esto no es excusa, hay una gran variad de desayunos simples, baratos y sanos que puedes hacer por las mañanas. Este blog muestra cómo preparar algunos de estos desayunos para que no haya más pretextos :http://www.elcorreo.com/vizcaya/ocio/201310/15/desayuno-saludable.html
Si sólo necesitas un pequeño esfuerzo para hacer que tu día sea mucho mejor, ¿A qué esperas para adquirir este hábito?
Alimentarse de forma saludable también es posible fuera de casa:
 Si a pesar de todo lo expuesto anteriormente, no puedes vencer la desgana a la hora de preparar tu primera comida del día, no todo está perdido, ya que nuestra cultura es favorable a tomar el desayuno en un bar o cafetería. Cada día más profesionales de la hostelería y la restauración, comparten nuestra misma visión, realizando su pequeña aportación, sirviendo a diario zumo de naranja recién exprimido o recetas elaboradas con él.
  Una pequeña ayuda para convencerte:
  Imagínate a ti mism@ por la mañana…. Al comenzar el día vas a tomar un desayuno en un bar o cafetería. Entras y buscas un lugar   para sentarte. Durante este tiempo te fijas en un porta-cartel donde se detallan todas las buenas propiedades y por qué debes      tomar un zumo de naranja recién exprimido …  Probablemente pensarás  -Bueno, ¿por qué no? no está nada mal tomar un buen  zumo de naranja. Pensando en ello, hemos diseñado porta carteles especiales para concienciar a más gente a tomar una bebida tan  saludable, simple y sana como un zumo de naranja. Y si, además, los negocios de restauración y hostelería pueden incrementar sus  ventas con ello, pues ¡ya tenemos dos pájaros de un tiro!
Si eres profesional hostelero y estás interesado en decorar tu negocio con nuestros porta-carteles puedes contactar con nosotros:
Teléfono: 966 299 599
Si eres particular y encuentras uno de nuestros porta-carteles en un bar, cafetería o cualquier negocio, haz una foto y cuélgala en nuestra página de Facebook o Twitter y opina!!!
————ENGLISH VERSION————-
Breakfast is the most important meal of the day
Numerous studies confirm the importance of breakfast in a healthy lifestyle.  There is a big difference between taking a breakfast or skipping one. If you don´t take breakfast, then pay attention to the following arguments:
Our body is a perfect machine, so keep it in top condition:
People who usually not eat breakfast have less energy and lack of concentration and mood. The explanation is that, despite being asleep, our body is still working and performing many metabolic functions, an energy that must be recharged every morning for our body to keep it running in top shape, like a machine that works 100%.
Read more about why you should eat breakfast in the morning in this blog and about the benefits of a healthy breakfast: http://www.naturopatamasdeu.com/la-importancia-de-desayunar-bien/
Set aside the laziness, another way to start the day:
Yes, we know: Some say they don´t have time to prepare breakfast.  This is not an excuse, because there is a great variety of simple, cheap and healthy breakfast you can prepare fast in the mornings. This post will show you how to prepare easily breakfast so that there are no more excuses: http://www.elcorreo.com/vizcaya/ocio/201310/15/desayuno-saludable.html
If you just need a little effort to make your day that much better, so what are you waiting to for?
Eating healthy is also possible outside:
One of the habits of the Spanish culture is that we like to breakfast outside, in a bar or cafe. More professionals of the hospitality and catering, share our vision, making his small contribution, serving daily orange juice freshly squeezed or recipes made with it.
An example:
 Imagine yourself in the morning …. The beginning of your day you want to breakfast in a bar or cafe. You enter in the bar and    search for a place to sit. During this time you look at a poster holder at the bar/ table where all the good properties are detailed and  why you should take freshly squeezed orange juice, you probably think … Well, why not? It´s not bad to order an orange juice.
 Well, we think that as well! Mizumo has designed special posters to raise awareness to consume a simple and healthy beverage like  orange juices. In addition, the restaurants and hotels businesses increase their sales, that means killing two birds with one stone!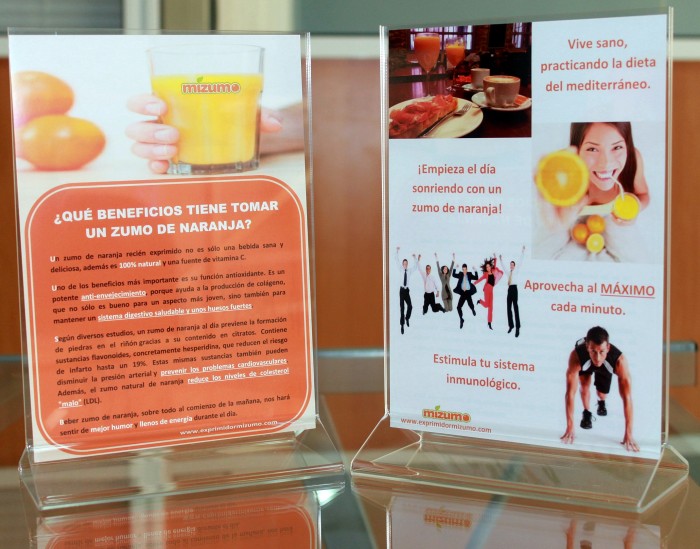 If you are a professional in the hospitality sector and interested in decorating your business with our poster holders, contact us for more information:
info@exprimidormizumo.com
Phone: 966 299 599
And for those ones, who find one of our poster holders in a bar, cafe or any business, take a picture and sharte it on our Facebook or Twitter and give us your opinion!!!
https://exprimidormizumo.com/wp-content/uploads/2015/07/familia-desayundando.jpg
326
580
admin
https://exprimidormizumo.com/wp-content/uploads/Logo-340x156px-para-la-web-Mizumo.png
admin
2015-07-31 11:42:26
2015-08-05 11:56:52
Por eso deberías desayunar bien cada mañana…/ That´s why you should take a breakfast every day…